RIZAL HADI & FOLK – Indonesia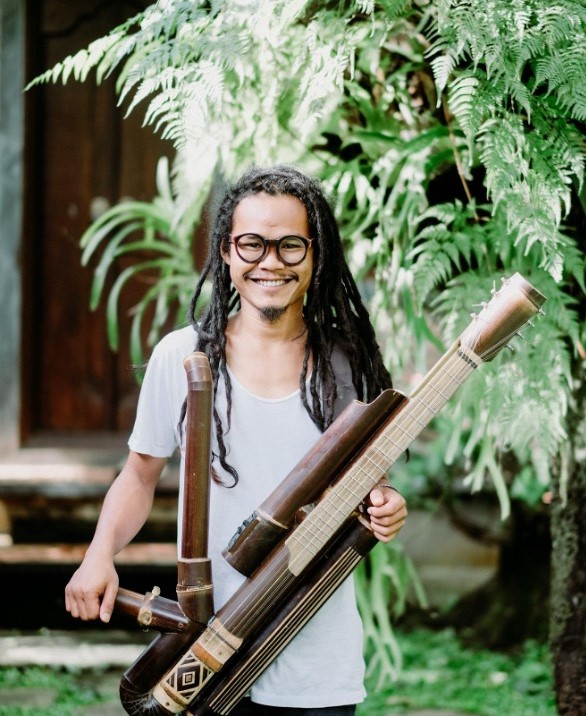 Rizal Hadi is a uniquely talented multi-instrumentalist, singer-songwriter, instrument builder, music producer and social activist from West Java, Indonesia. He dedicates his music and career towards creating real social change and promoting creativity; both in Indonesia and globally.
Rizal harnessed his knowledge of Bamboo material to develop his unique and innovative instrument called the Rasendriya. It combines guitar with didgeridoo and celempung (percussion). further exploring the use of bamboo for instruments, Rizal's latest project is his Bamboo Lapsteel Guitar & Strings instrument. Rizal creates a unique style of folk music by combining ballads, rock, reggae and blues with eclectic ethnic rhythms. His lyrics sung with confidence in both Indonesian and English speak of life, adventure, spirit, democracy and opportunity.
Since 2008, Rizal has toured extensively in Indonesia and played at major Indonesian festivals, including; Bali Spirit Festival (2015 &2017), JavaJazz (2019 with Rhythm Rebels), Ubud Writers & Readers Festival, Festival Mata Air and many more. Throughout which he has taken the opportunity to collaborate with many well-known Indonesian musicians. In late 2012 Rizal has made waves on the international music scene, taking his musical and instrument building talents to the world. Travelling as either a one-man band or with accompanied by other band mates, such as the musical due Rhythm Rebels.
Rizal has toured Australia twice and performed at numerous international music festivals, such as; Zero Festival of Music in Arunachal Pradesh, Island Music Festival in Malaysia, Moca Fest in Sarawak, Metro Dubai Festival in UAE, Ulsan World Music Festival in Korea, Udaipur World Music Festival in India, Mint Festival in Russia and many more. In November 2017 he played in front of 30 World Leaders in the 13th World Islam Economic Forum in Malaysia.