CHATUSRAM – India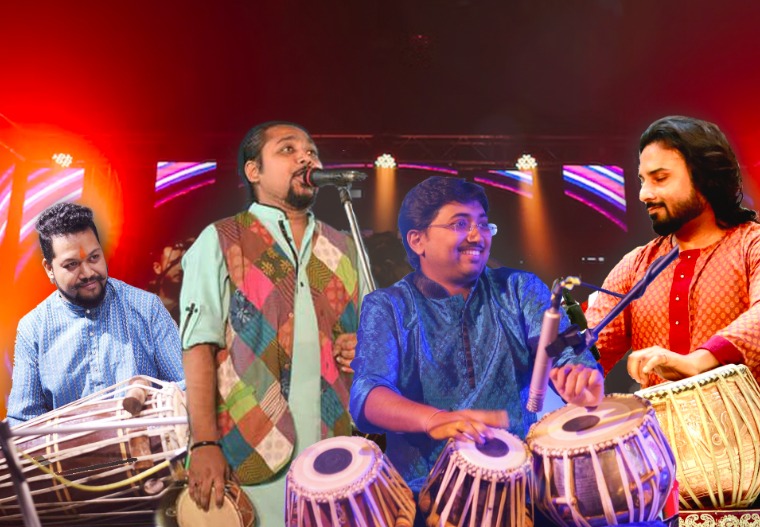 Chatusram is an Indian multi percussion ensemble with a focus towards the various facets of Indian traditional and folk percussions. Chatusram comprises of Nishaant Singh in the Pakhawaj, Surojato Roy and Supratik Chatterjee in the Tablas and Shubhashish in the Indian Folk percussions. As the name suggests, Chatusram is a four piece Indian percussion ensemble and brings to the audience a platter of rhythmic conversations as well as scintillating individual performances. A performance of this ensemble, generally, is an hour long and comprises of several number of compositions each different from the other. While there are rhythmical conversations of all four percussions, there are also separate tastes of the traditional Dhrupadi Pakhawaj playing and Indian classical Tabla performances as well as the Folk tales from Bengal and India.
Nishaant Singh :
He kept his mark both as a soloist and an accompanist and has been invited to several Dhrupad festivals of Allahabad and Benaras as well as other cities of India. Recently he was invited to a month long tour to the Mexico, USA and Canada
Surojato Roy :
He is one of the prominent-most names among the tabla players of the upcoming generation and received several music awards including the All India Radio Music competition, National Inter University Fest, Hariballav Music Competition, Doverlane Music Competition etc. Surojato got invited for performances and workshops in several cities in India as well as in countries like the UK, the USA, France, Germany, Spain and Italy.
Supratik Chatterjee :
He was humbled to represent the country in the concert titled "Children of International Repute from UK and India". As a teacher, he teaches students from India, Israel, Turkey and Bangladesh.
Subhashish :
He holds a Master's degree in Indian Percussions from the Rabindra Bharati University and is a regular performer in the Television and the Radio. He has received several invitations for performances in the USA, Canada and Bangladesh.