Fauziah Gambus & the Geng (Malaysia), I Beddi (Italy), Dongyan Gozupa (Korea) & Warsaw Polish Band (Poland) will add a refreshingly unique take on traditional music
 KUALA LUMPUR, 7 June 2022 – This year's Rainforest World Music Festival (RWMF 2022), happening in a hybrid format from 17th to 19th June 2022, welcomes performers from all over the world with some injecting a unique stance of traditional music from their respective countries.
 All with a distinctive sound to call their own, these artists put a spin on traditional instruments, whether in lute form, strings or even through language. Representing Sarawak's neighbouring state Sabah is multi award-winning vocalist and gambus performer Fauziah Gambus.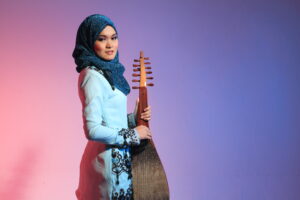 Considering how Fauziah was forbidden to play the gambus as a child, she has come a long way from the days when she would sneak her grandfather's gambus out to practice behind her house. There were many reasons why she wasn't allowed, with one being how there had never been a woman to play this particular lute instrument. But she was determined and after secretly honing her skills, participated in a solo gambus competition in her village dressed up as a boy. It all paid off because she won and accepted the prize as a girl. She even defeated her grandfather in the competition, but instead of being disappointed, he congratulated her with pride.
Fauziah's bold move was only the start of things to come. Her colourful journey of touring the world and performing for royalty inspires young women to explore the world through music while her beautiful voice and presence on stage will surely captivate audiences.
She will be joined on stage by her husband Firlany, a multi-instrumentalist, playing more than 30 instruments, and also percussionist Achik Walid. Collectively as Fauziah Gambus & the Geng, they will reveal the beauty and wonder of Sabah's best-kept musical secret.
From Italy, and returning to RWMF is iBeddi. This prize-winning folk music group from Sicily was founded in 2005 and their songs are a mix of the Sicilian dialect and Italian. But as their latest album Non Chiamateci Folksinger (Don't Call Us Folksingers) aptly suggests, they are more than just a "folk music" group.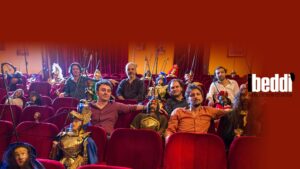 They are more like an unconventional kind of Sicilian folk music which has been described as innovative and modern. But that is expected from a band built around multifaceted musicians who come from different artistic and musical worlds. What you get is described as "light folk that borders blues, the most celebrated songwriting in Italy, American country, jazz and many other musical expressions apparently far from traditional Sicilian folk."
Founded by Sicilian musicians Davide "Tamburo di Aci" Urso and Simona Di Gregorio, the band has released a number of albums but the song Tarantella Blue, from their 2010 release Siciliazero, won the first prize at Sicily's New Sicilian Song Festival.
Although co-founder Simona left a few years after the group formed, iBeddi continued to perform and even toured across Italy and several other countries as well. Today, the band consists of guitarist Mimì Sterrantino, flautist and accordion player Giampaolo Nunzio, double bassist, Pier Paolo Alberghini and tambourine man, Davide "Tamburo di Aci" Urso (the other founder).
Also putting a twist on "traditional" music from their country is Dongyang Gozupa from South Korea. They call themselves a progressive rock band based on Korean traditional music accompanied by a Yanggeum (Korean hammered dulcimer), bass and percussions.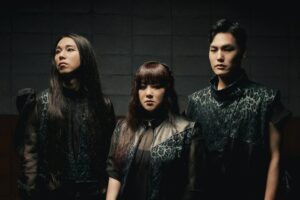 This trio is a force unto its own! As expected, since the group was formed by Dohyuk Jang, an award-winning percussionist of a rock band in Korea. Also, along with him on this explosive ride through music is celebrated Yanggeum player Eunhwa Yun, and on bass guitar is Minhwi Ham.
Their unique sound has won them a spot at the prestigious Seoul Music Week in 2019 and 2020. They were also invited to perform at the 2021 World Music Expo (WOMEX) in Portugal. This year, they will impress at RWMF 2022 and remind you that there is more to music in Korea than just K-pop.
The the music of the Warsaw Village Band could be described as contemporary Polish folk-rock; favouring an approach that is rootsy yet experimental, combining Polish folk with a wide variety of non-Polish music — some of it from other parts of Europe, some of it from North America, some of it from Africa and Asia. The Warsaw Village Band have not been afraid to take chances, and their long list of non-Polish influences has ranged from funk, soul, hip-hop, rock, and the blues to African music and Indian raga.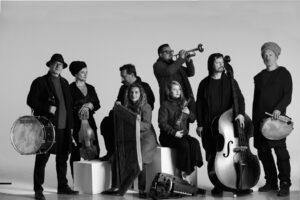 Members of the Warsaw Village Band includes founder Maciej Szajkowski (drums), Maja Kleszcz (lead vocals and cello); Magdalena Sobczak (lead vocals and dulcimer); Sylwia Swiatkowska (lead vocals, suka); Wojtek Krzak (violin, hurdy-gurdy, and drums) and Piotr Glinski (on drums and percussion). They have incorporated Swedish polska and have shown an awareness of Middle Eastern, Arabic, Jewish, Turkish, and North African music along the way.