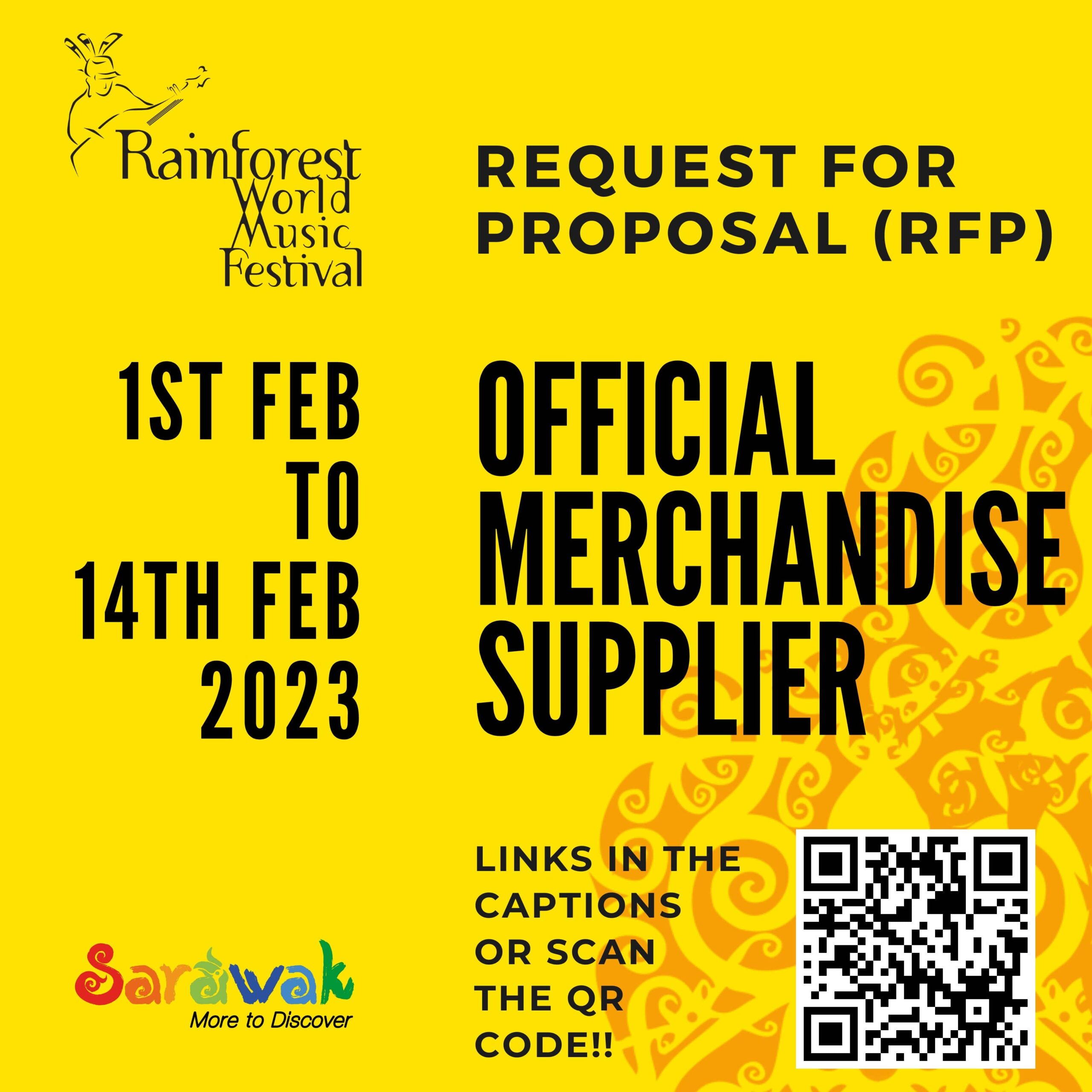 SARAWAK TOURISM BOARD (STB) is inviting applicants for the proposal to supply official merchandise for Rainforest World Music Festival to beheld on 23rd – 25th June 2023 at the Sarawak Cultural Village, Kuching. This would be the 26th anniversary of Sarawak's iconic event and it is to be held fully physical
I. OVERVIEW:
The successful applicant will enter a contract with Sarawak Tourism
Board to supply official merchandise for the Rainforest World Music
Festival 2023.
II. ORGANIZATION INFORMATION:
SARAWAK TOURISM BOARD, a statutory body incorporated under the Sarawak Tourism Board (Incorporation) Ordinance 1994 with the following objectives:
To increase tourist arrivals into the state
To create awareness among the trade, media and public on the diversity of Sarawak in terms of tourism products, both regional and international.
To position Sarawak as a prime destination for culture, adventure, nature, food and festivals.
III. EVENT DESCRIPTION:
Established in 1998 with an audience of only 300 people, the Rainforest World Music Festival (RWMF) is now a major iconic annual event in the State's music calendar, eagerly anticipated by a crowd of over 20,000 people who flock from all around Malaysia as well as overseas. It is a family-friendly event with an accent on participation and it's the platform to highlight on Responsible Tourism through its greening initiatives, recycling and waste management initiatives and the use of shuttle buses to reduce carbon emission.
The RWMF is a unique festival that brings together renowned world musicians from all continents and indigenous musicians from the interiors of the mythical Island of Borneo.
Previously, the RWMF has definitely met its objectives of promoting Sarawak as the region's premier destination which emphasises on performing arts and the preservation of culture. It is indeed an event which has attracted the world's attention in building destination branding, attract business sponsorship and cross promotion opportunity plus it has a multiplier effect on the economy and a spill over effect on sectors such as food & beverages, handicrafts, public transports, travel and tours, e-commerce and many more in and around Kuching.
Due to COVID-19 pandemic, Rainforest World Music Festival (RWMF) were rescheduled in 2021. In maintaining the festival's presence among the festival goers and fans who have been following the iconic festivals over the years, the RWMF was held virtually in 2021 and hybrid in 2022.
For year 2023, the festival will be held fully physical. The maximum capacity of the venue (Sarawak Cultural Village) can accommodate 8,000 visitors per day. The duration of the festival is for three days.
IV. APPLICANT RFP RESPONSE:
By responding to this Request for Proposal (RFP) the applicant agrees to be responsible to fully understand the requirements of the RFP. The Sarawak Tourism Board (STB) reserves the right to reject any or all responses to the RFP, to advertise for new responses, or to accept any RFP response deemed to be in the best interests of STB.
Acceptance of any RFP should not be construed as a contract nor shall indicate any commitment on the part of STB for any future events. The RFP does not commit the Sarawak Tourism Board to pay for any costs incurred in the submission.
V. APPLICANT INFORMATION:
All applicants must submit the following information:
i. Name of Applicant/Company: Name of company & its principal (Malaysian Registered)
ii. Nature of Business/Services: Description of services offered
iii. Company Profile:
– Trade License (SSM Search & Form 9)
– Product Catalog
– Proposed product design and sample
– Customer and Past Event References
– Manpower (to man the booth)
– Partners profile (if any)
iv. Financial Implication
– Proposed profit sharing
– Price and sales projection
VI. RESPONSIBLE TO:
The applicant will be responsible to the Chief Executive Officer of the Sarawak Tourism Board
VIII. SCOPE OF WORK:
Merchandise concept to cover the following: –
Target group: 25 years to 45 years
Elements to be highlighted: Promote the five pillars of Sarawak Tourism – Culture, Adventure, Nature, Food and Festival (CANFF) plus highlights on Responsible Tourism
Venue of event: Sarawak Cultural Village
Type of merchandise: Offer your best products to be included in RWMF 2023
Financial implication: Profit sharing percentage up to 25% from total nett sale. No cost and stock implication borne by Sarawak Tourism Board.
Selling platform: Appointed partners are allowed to sell merchandises pre and post event via sellers' online platform OR STB online platform page with further T&C.
The above SOW should cover the following items: –
I. Sales deliverables/full report on-time and to the Board's expectations
II. To fully operate and manage the merchandise booth before, during and after the event
III. To submit a detailed sales report on the outcome within 30 days after the event
IX DATE
Friday, 23rd June 2023
Saturday, 24th June 2023
Sunday, 25th June 2023
X. SELECTION:
Successful applicants who have demonstrated the capacity to meet our requirements will be notified via phone/email.
XI. SEND PROPOSALS TO:
Proposal must be sealed and clearly marked with the following: 'RFP Response – To Supply Official Merchandise for Rainforest World Music Festival 2023'. Submissions must be received no later than 12 noon on 14th February 2023, and should be delivered to:
The Chief Executive Officer
SARAWAK TOURISM BOARD
Level 4, Plaza Aurora
Jalan McDougall
93000 Kuching Sarawak
Any questions or clarifications regarding definitions or interpretations of this RFP should be directed to [email protected] and copied to [email protected].