Postponement Of Events:
Rainforest World Music Festival 2020 (RWMF2020) – 10th to 12th July 2020
Rainforest World Music Festival Fringe (RWMFF) – 3rd to 15th July 2020
Rainforest In The City (RITC) – 30th June to 9th July
Sarawak Tourism Board (STB) regret to inform that the Rainforest World Music Festival (RWMF) 2020, Rainforest World Music Festival Fringe (RWMFF) and Rainforest in the City (RITC) events, originally scheduled to be held in July 2020 will be postponed until further notice.
This announcement is in light of the statement issued by the State Disaster Management Committee and the Ministry of Tourism, Arts and Culture Sarawak that all government and public gatherings involving more than 250 participants should be postponed to a later date, bearing in mind the three confirmed COVID-19 cases in Sarawak.
These events have been postponed and not cancelled for now and the organising committee will mobilise them if the situation gets better. It is our hope that this challenge will subside within one or two months.
With more than 20,000 expected visitors from over 30 countries, the RWMF 2020 is extremely important for Sarawak's tourism industry. However, we take the responsibility for the health and safety of our visitors, musicians, participants, and employees very seriously. We are fully committed to putting people and their well-being first.
In this regard, inter-agency cooperation is vital to ensure containment. We are working in close consultation with the Ministry of Tourism, the State Disaster Management Committee and the health authorities and other partners to ensure that health measures are implemented in ways that minimise unnecessary health risks.
It is therefore with a heavy heart that we make this postponement announcement as public health remains our top priority during this global pandemic.
This is the first time in RWMF's 23-year history that Sarawak has been faced with such a challenge. We would like to thank all parties involved, including local participants and those from all over the world. We look forward to continuing the trusted relationship and your continuous support. We will keep everyone updated on further developments, from time to time.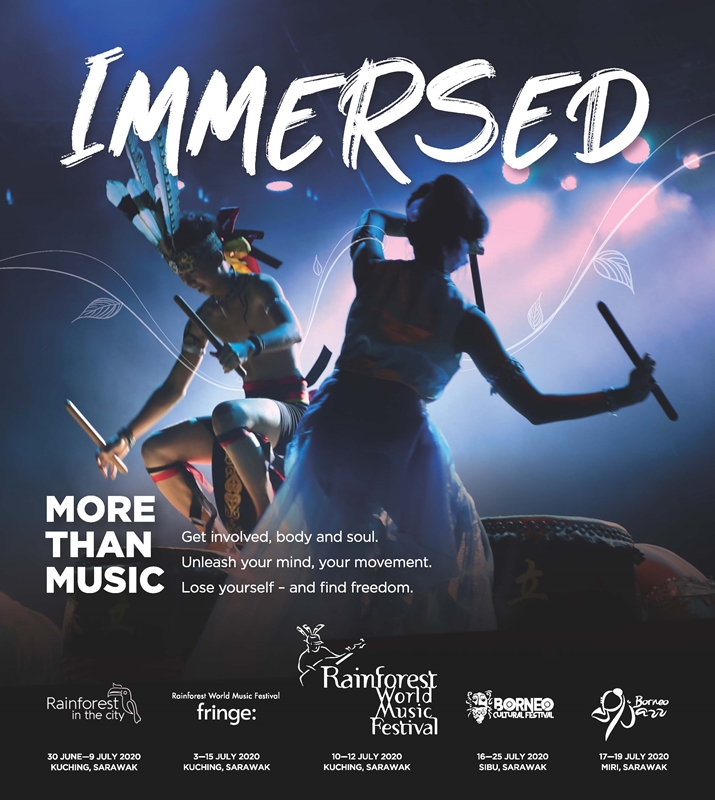 For enquiries on the RWMF 2020, please email to [email protected].