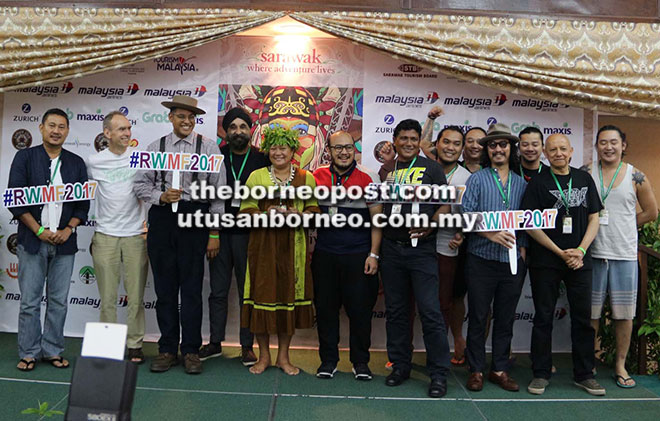 KUCHING: Those going to the Rainforest World Music Festival (RWMF) at Sarawak Cultural Village here this weekend are in for an energetic and heart-thumping treat.
The three-day event, which enters its 20th edition this year, gathers an impressive line of performers in the likes of Achanak (India-UK), Huw Williams (Wales), O Tahiti E (Tahiti), Spiro (UK), Saing Waing Orchestra (Myanmar), Dom Flemons (USA), The Paradise Bangkok Molam International Band (Thailand) and Cimarron (Columbia).
Representing Malaysia at the festival are the 1511 O Maliao Maliao and At Adau from Sarawak.
The 1511 O Maliao Maliao, which was established in 2014, is a performing troupe with 21 members consisting of dancers and musicians. They are all passionate in preserving the dancing heritage of the Portuguese community in Malacca including the 'branyo' – a product derived from the marriage of the arts and music between the Portuguese and Malaysians.
On the other hand, Sarawak's own At Adau is bringing the instrumental world of the Bidayuh and Orang Ulu communities to the RWMF 2017 visitors.
According to band member Meldrick Andrew, they are going to feature several numbers from their albums 'Journey' and 'Oba' ('Love' in Kenyah language).
"Our performance will not only be an expression of and appreciation for both ethnic (Bidayuh and Orang Ulu) groups, but will also feature the nature elements in Sarawak.
"We want to educate the visitors on how people in the Orang Ulu and Bidayuh communities raise toast (a ritual where a drink is taken as an expression of honour or goodwill) which is usually accompanied by a song," said Meldrick at a press conference on RWMF 2017 yesterday.
He also said At Adat would introduce to the crowd their new member Luke Wender who is the band's second sape player.
Other notable artistes are the O Tahiti E which highlights the uniqueness of the French Polynesian community in Tahiti; the multi award-winning Achanak that showcases the fusion of traditional Indian vocals and percussions with energetic Western dance rhythms; as well as Grammy Award winner Dom Flemons.