KUCHING, 16 June 2021- Fans of the iconic Rainforest World Music Festival (RWMF) are going to be able to relive the feel of the iconic event virtually this year when the event gets underway this Friday.
RWMF 2021, a virtual experience featuring a retrospective of past RWMF performances and new pre-recorded sessions with homegrown acts will be shown on RWMF's official site www.rwmf.net, TVS and Shopee Live from 6pm to 7.30pm every day from 18-20 June.
More than 12,400 people have registered on the RWMF platform since it went live on June 7.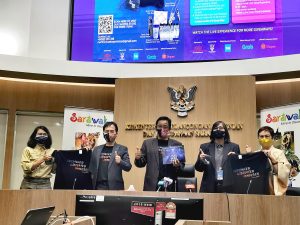 "In the midst of an ongoing pandemic, and a world still recovering from 2020, going virtual with the Rainforest World Music Festival and Borneo Jazz Festival for the year 2021 not only seemed like the practical step forward, but an opportunity for us to explore how we can take these two iconic events to the next level," said YB Datuk Haji Abdul Karim Rahman Hamzah, Minister Of Tourism, Arts And Culture Sarawak.
"By going virtual, RWMF 2021 and BJF 2021 will allow devoted fans to relive and reminisce on the highlights of past editions, and give new audiences a glimpse of the festival and what makes them so special."
Registrants on www.rwmf.net will be able to navigate either a 3D virtual landscape  or 3D walkthrough of the Sarawak Cultural Village, home of the Rainforest World Music Festival, where they will be able to access performances on the 'Main Stage' or  workshops from the virtual Bidayuh, Iban, Chinese and Malay houses.
On the virtual stage, viewers can watch the performances, interviews and flashbacks and engage in conversation with other online users throughout the 90-minute event.
For those who feel peckish during the performances, food can be ordered at the Orang Ulu longhouse via GrabFood, while others looking to buy limited edition RWMF merchandise can access Shopee at the Orang Ulu longhouse.
The Rainforest World Music Festival 2021 Virtual Experience will see an exciting line-up of artistes: Alena Murang who recently released her new album titled Sky Songs; KEMADA, Sang Rawi, Mathew Ngau, At Adau, Suk Binie', Nading Rhapsody and World Championship of Performing Arts (WCOPA) champion Tuku' Kame'.
In addition to RWMF, this year's Borneo Jazz Festival (BJF) will be viewable on www.jazzborneo.com, TVS and on Shopee Live. Viewers will be serenaded by a string of jazz musicians including Clinton Jerome Chua, O-Ha Soul Band, Nisa Addina, Ta'Dan and the "Prince of Borneo" himself – Pete Kallang among flashbacks and exclusive interviews from 25 to 27 June at 6pm-7.30pm.
Registrants to the RWMF and BJF platforms will be eligible for the Grand Prizes worth RM2,000, e-goody bags worth RM300 and contest giveaways to be held during the virtual events, where you can win free tickets to next year's festivals, discounts to selected hotels, event merchandise and much more.
Grab is the Official Delivery Partner for both RWMF and BJF. Those who register and access the musical events on www.rwmf.net and www.jazzborneo.com will be able to order food and receive discounts with a special promo code.
With Shopee named as the Official E-commerce Partner, the virtual experience will be streamed via Shopee Live, giving access to millions of households across the country to enjoy the showcase from the comforts of their own homes.
Sarawak Tourism Board has opened an official store on Shopee to feature merchandise from both RWMF and BJF. This includes RWMF and BJF Limited Edition T-shirts, Limited Edition Batik Linut Face Mask, Limited Edition Printed Batik Face Mask, and other attractive products.
To get Limited Edition RWMF and BJF merchandise, visit https://shopee.com.my/placeborneosdnbhd