KUCHING, 19 June 2021- Viewership for the opening night of the Rainforest World Music Festival's first virtual experience has exceeded Sarawak Tourism Board's original targets.
Featuring a retrospective of past RWMF performances and new pre-recorded sessions with homegrown acts, more than 56,000 people watched the virtual experience on opening night through www.rwmf.net, Shopee Live, as well as RWMF's and TVS' Facebook pages. Meanwhile, the www.rwmf.net platform received registrants from 78 countries, with the most coming from Malaysia, Singapore and the UK.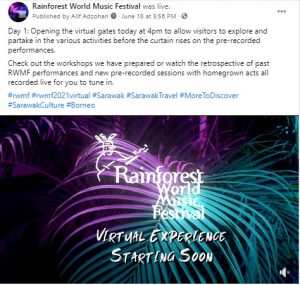 "The positive response to the RWMF 2021 Virtual Experience has not only exceeded our expectations but also shown to us the strong appeal of our musical content, even outside of the traditional festival atmosphere," said Sarawak Tourism Board CEO Sharzede Datu Hj Salleh Askor.
"It gives us a glimpse of what we can do in terms of virtual or mixed media for future events as we look to diversify and strengthen our programming and concept for RWMF 2022," she said.
The opening night of Rainforest World Music Festival 2021 Virtual Experience saw original performances by Alena Murang, KEMADA and Sang Rawi.  Saturday (June 19) will see National Living Heritage of Malaysia Mathew Ngau, At Adau and Suk Binie' performing, while Nading Rhapsody and Tuku' Kame' will perform on the final night.
Registrants on www.rwmf.net can navigate either a 3D virtual landscape  or 3D walkthrough of the Sarawak Cultural Village, home of the Rainforest World Music Festival, where they will be able to access performances on the 'Main Stage' or  workshops from the virtual Bidayuh, Iban, Chinese and Malay houses.
On the virtual stage, viewers can watch the performances, interviews and flashbacks and engage in conversation with other online users throughout the 90-minute event.