KUCHING, Monday – In celebration of the Rainforest World Music Festival's 20th anniversary, Festival tickets will be sold at 20% off early bird prices, with the promotion starting on January 20.
The promotion is for a limited time only while stocks last, with 1,500 daily tickets up for grabs.
The discount is provided by the Festival organizer, the Sarawak Tourism Board, as a 'thank you' to the Festival's ardent followers who come back every year.
"This year heralds 20 great years of world music in the rainforests of Sarawak and a collaboration between us, the organizers, and the audience who support us and make this festival possible", says the Board's Director of Events & Corporate Relations, Madam Angelina Bateman.
The Festival will be held on July 14-16 at the Sarawak Cultural Village in Kuching, and will feature music from around the world on three stages, two outdoor and one indoor, mini sessions in the afternoon, workshops for children, drum circles, as well as a variety of food and a craft bazaar.
For the 20th edition, plans are in place to have more activities including holistic and wellness programmes which will begin as early as 11 in the morning.
"The 20th anniversary celebrations is going to be a HUGE EXPERIENCE and we are planning more activities around the music," added Angelina.
Starting with only a few hundred people in the audience in 1998, the Festival has grown to an internationally recognized music festival, receiving awards among them as one of the Top 25 Best International Festivals awarded by Songlines Magazine for six consecutive years.
Festival tickets and updates are available online at www.rwmf.net.
The event is supported by the Ministry of Tourism and Culture Malaysia and Ministry of Tourism, Arts & Tourism Sarawak and endorsed by Tourism Malaysia with Malaysia Airlines as partners.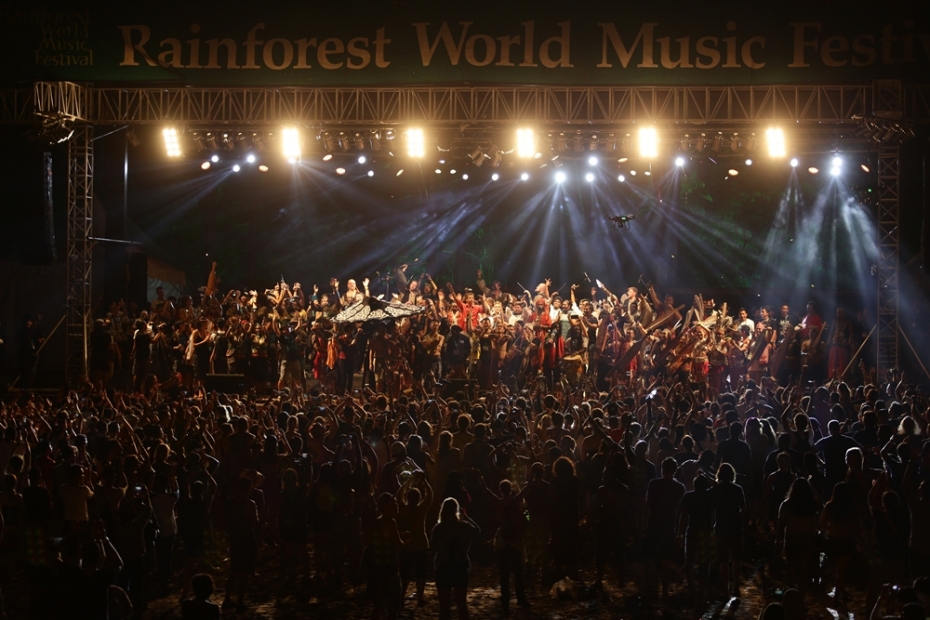 Image shows the finale of the 2016 Rainforest World Music Festival.
Issued by:
Communications Unit
SARAWAK TOURISM BOARD
T: +6 082-423 600  F: +6 082-416 700 M: +6019-818 8946
E: [email protected]