KUCHING, Friday – The Sarawak Tourism Board today proudly announce that Culture Club Kuching as its Diamond Sponsorship for the Rainforest World Music Festival 2017.
"We are delighted to be able to partner with STB for this years' festival as this is in line with our aspirations of preservation of traditional musical instruments as we march towards the modern era and bringing with us our proud traditions," said Culture Club's Director, Dato' Sri Ho Kim Hee.
We had daily traditional dances and music held at our club and it would be refreshing indeed to be able to feature other international indigenous musicians to give us a sample of their culture, he added.
The mock cheque presentation ceremony was held on May 24 at the Sarawak Tourism Board office where Dato' Sri Ho presented the RM 50,000.00 sponsorship agreement to the STB's Director of Events & Corporate Relations, Angelina Bateman.
The presentation was witnessed by the Festival Event Manager, Sarren Michael, Culture Club Manager Rajdeep and Assistant Manager, Raja Hadzlee Shah Bin Raja Taharudin.
The Culture Club's venue at Jalan Green Hill will be the official venue for the preview shows in the days leading up to the Festival as part of the Diamond Sponsor deal.
The Rainforest World Music Festival which will be held at the Sarawak Cultural Village on July 14 to 16 will feature some 27 bands over the three days stage shows.
Among the various activities lined up for this year's 20th anniversary celebration include health and wellness programme in addition to the Festival's usual mini sessions, arts and crafts for children as well as traditional food and crafts bazaars.
For further information on festival activities, logistics or tickets, please logon to rwmf.net.
Rainforest World Music Festival is organised by Sarawak Tourism, endorsed by Tourism Malaysia and is jointly supported by the Ministry of Tourism, Arts and Culture, Sarawak and partnering with Malaysia Airlines as the presenting sponsor.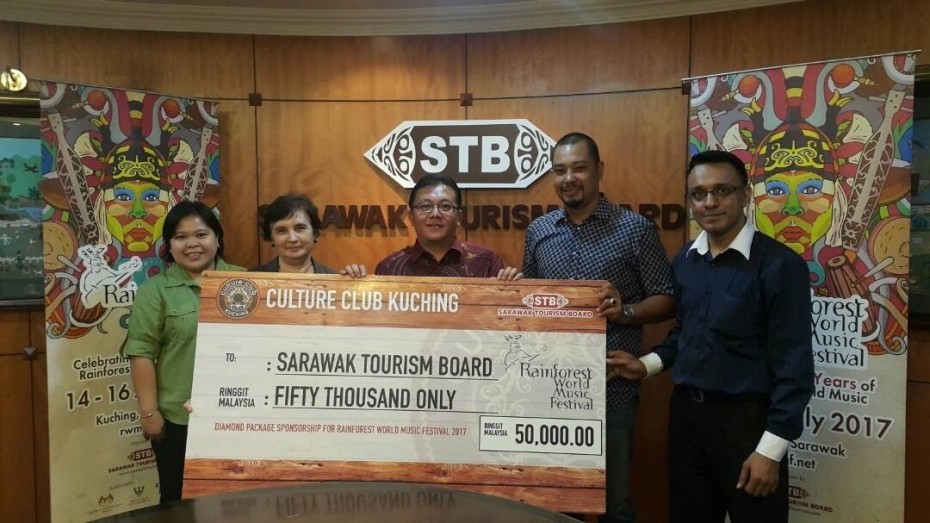 The Director of Culture Club Kuching, Dato' Sri Ho Kim Hee, presenting the sponsorship cheque to Mdm Angelina Bateman of Sarawak Tourism. [from Right: Rajdeep, Raja Hadzlee Shah Bin Raja Taharudin, Dato' Sri Ho Kim Hee, Madam Angelina Bateman and Ms. Sarren Michael.
Issued by:

Communications Unit
SARAWAK TOURISM
T: +6 082-423600 F: +6 082-416700
E: [email protected]