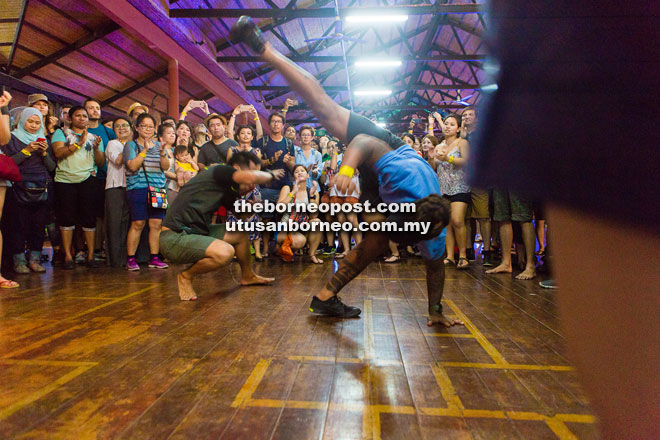 KUCHING: Fresh from a very successful outing at Rainforest World Music Festival (RWMF) 2017, Movimento Simples de Capoeira Sarawak (MSC Sarawak) is eyeing the upcoming What About Kuching (WAK) 2017 to introduce more of Brazil to Sarawak.
"My tagline is always 'I bring Brazil to Sarawak'," said Malcolm Wu, or Instructor Bocão as he's known in Capoeira circles.
As one of the entities confirmed for WAK 2017 in October, MSC Sarawak will be organising 'Ritmo do Samba' (Rhythm of Samba) in their effort to introduce Brazilian arts and culture to Kuching as a variety of activities that everyone can experience.
"We will run a Samba dance workshop and Samba dance showcase with live Samba percussion band and Samba dancers in costumes. We will be having a Capoeira workshop too," Wu told The Borneo Post.
He said that their RWMF experience was beyond expectation.
"It was really an awesome experience to be part of the RWMF side events in Sarawak Cultural Village," he said, adding that the Samba dance workshop with Singapore's Samba Queen Farah Dawood de Morais and her partner Nor Dee Dee from Singapore School of Samba was full house.
The best part was showcasing live Samba percussion band and Samba dancers in their costume, something that Wu wants to showcase to Sarawak.
He described the Capoeira showcase as 'awesome', with an especially memorable moment when a physically-disabled man from Kuala Lumpur joined them for some Capoeira playing, his lack of arms not stopping him.
"The most magical moment for me was seeing Capoeira and Samba being showcased in RWMF. It's like a dream come true," said Wu.
Their outing at RWMF was part of MSC Sarawak's fifth Annual 'Batizado e Troca de Corda'. The Batizado, or 'baptism', is a grading ceremony for local Capoeira practitioners as well as an overall festival to celebrate the Afro-Brazilian art of Capoeira.
Look out for 'Ritmo do Samba' (Rhythm of Samba) in October under WAK 2017.
What About Kuching (WAK) 2017 celebrates the arts, culture and lifestyles of the people of Kuching by creating a platform to share the abundant talent here and throughout Sarawak.
The month-long event, beginning Sept 30 to Oct 29, will encompass every genre from visual to performing arts, traditional to contemporary arts, and from static exhibitions to active outdoor pursuits.
More info http://www.theborneopost.com/2017/08/02/bringing-brazil-to-sarawak-samba-capoeira-at-wak-2017/