Kuching, Wednesday – The 19th Rainforest World Music Festival bus shuttle  service  from the city to Sarawak Cultural Village on August 5 to 7, will make its  stops at four main shuttle points within the city.
The bus route begins at Hills Shopping Mall and making stops to pick up passengers at the Harbour View Hotel, Waterfront Hotel, the Merdeka Palace Hotel and making a non-stop service to the Sarawak Cultural Village.
The hour-long trip begins at 10.00 am with hourly departures until 8.00pm, and the return trip from the festival site to the city at 12.30 pm and ends at 1.30 am nightly during the festival period.
A one-way pass on the shuttle costs RM20.00 per adult and RM12.00 per child age three to 12 years old, while a three-day shuttle pass is priced at RM100.00 for  unlimited rides to and from the festival site for the weekend.
For those driving their own vehicles, they will  not be allowed entry after  the junction of the Century Santubong Beach Resort and Police traffic personnel will direct vehicle owners to park by the roadside.
For those parking within this restricted areas,  a Damai  van shuttle service  from the  resort will start from 10.00 am to 12.00 midnight  with a one way pass costing RM7.00 per adult and RM4.00 per child age three to 12 years old.
Those who are planning to drive to Damai are advised to avoid peak traffic hours, between 10.00 pm to 1.00 am, when traffic congestion is expected at its height.
The gate to the Festival is expected to be opened from  10.00 am and festival goers are encourage to head  to the site early to enjoy the food  and village Mart before the workshops begin at 2.00 pm daily.
Every year, the food mart provides festival goers with popular local delicacies such as Sarawak Laksa, Kolo Mee, Midin, and Manok Pansoh.
The village mart offers display of arts and crafts, be it fabric and wood,   arts, paintings, traditional clothes and accessories, as well as henna and airbrush tattoos.
The Rainforest World Music Festival is supported by the Ministry of Tourism and Culture Malaysia, Ministry of Tourism, Arts and Culture Sarawak (MTAC) and endorsed by Tourism Malaysia with Malaysia Airlines Berhad as the presenting sponsor.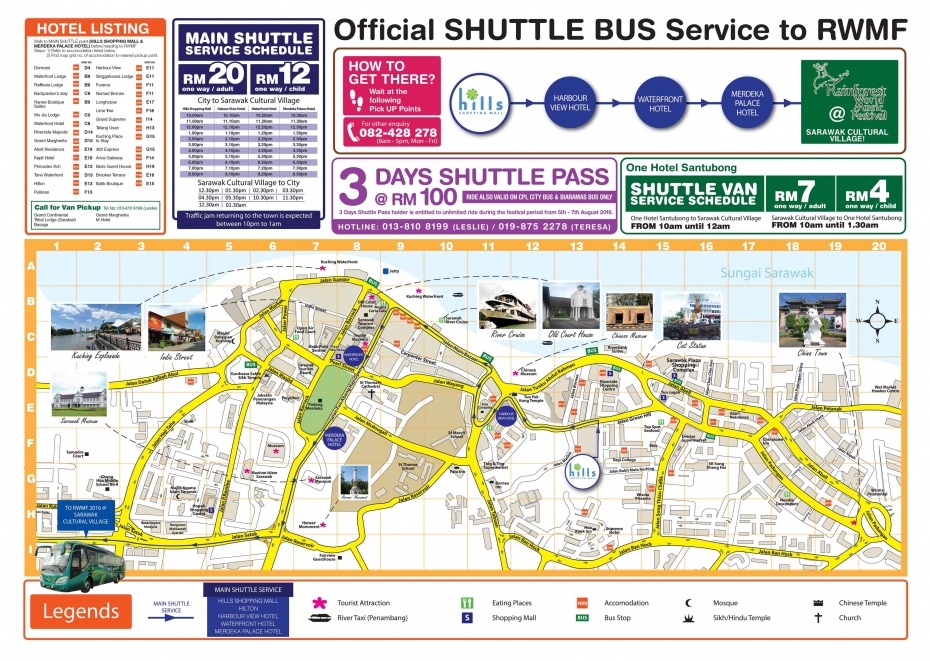 Download your copy of  Shuttle service schedule for RWMF2016 here.
Issued by:
Communications Unit
SARAWAK TOURISM BOARD
T: + 6 082-423600
F: + 6 082-416700
W: www.sarawaktourism.com
Email: [email protected]
Date:   3 August 2016