Kuching, Tuesday – Sarawak Tourism Board's Rainforest World Music Festival (RWMF) took centre stage at the Asian MICE Forum (AMF) in Taipei earlier this September, where the event was presented in the forum as a leading international music event in Asia.
The RWMF was presented by Ms. Mary Wan Mering, acting Chief Executive Officer of the Board, in a panel discussion entitled "Gamification in Destination Marketing".
The panel discussed the pertinence of using game dynamics in events and shared insights on how their events became 'world-famous'.
'Gamification' has become the keyword in event planning as of late, as traditional one-way events are being abandoned by event-goers who consider two-way or interactive events such as the RWMF far superior.
"In a sense, we were years before our time, as we've been placing interactivity and inclusion as the core of the RWMF since 1998". Mary Wan highlighted during her presentation to the crowd of 700 industry members.
The gamification of events has become the new tactic of event organisers to create a deeper connection and a fonder memory in participants, instilling in them a sense of ownership over the event.
"By involving the crowds in workshops and tutorials, they are not just attending an event, they are becoming a part of that event, and in doing so that event becomes a part of their identity. They will always return." Mary Wan explained.
The impact of an interactive event goes further than just customer satisfaction, as it has also aided the RWMF in its main objective, which is cultural art and music appreciation, conservation and revival.
The RWMF has been voted as one of the top 25 World Music Festivals by Songlines Magazine for six years in a row and has achieved various international events and public relations awards over the past 19 years.
Other events which shared the panel were Yanshui Beehive Fireworks Festival in Tainan, Taiwan, listed as the third largest folk celebration in the world; the regionally famous Sapporo Snow Festival in Japan; and the attractive Chartres Festival of Light in France.
"Our home-grown event sat on par with events in Taiwan, Japan and France. We came come a long way from humble beginnings. We are overjoyed to see the RWMF getting the recognition it deserves." Mary Wan stressed.
The AMF is an established international platform for Meetings, Incentives, Conference and Exhibitions (MICE) experts to discuss their industry challenges and solutions, with over 6000 attendees to date over the past 10 years.
Organised by the Taiwan External Trade Development Council (TAITRA) and commissioned by the Bureau of Foreign Trade, Ministry of Economic Affairs.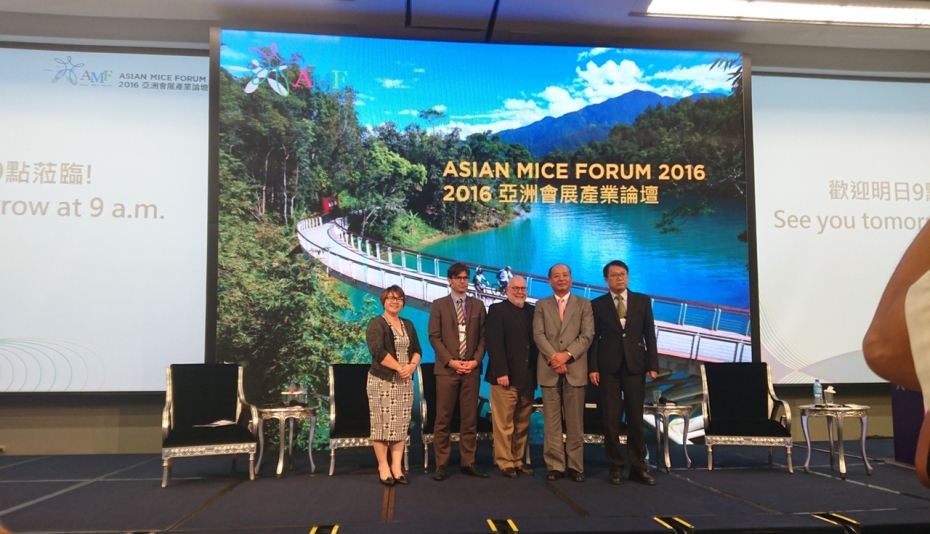 Photo shows Mary Wan Mering with other presenters at Asian MICE Forum.
Issued by:

Communications Unit
SARAWAK TOURISM BOARD
T: +6 082-423600  F: +6 082-416700
E: [email protected]
Date: 20 September 2016