Kuching, Friday – Registration for interested vendors for the Rainforest World Music Festival's Food and Village Mart is now open for applications.
Those interested must complete the form available at the Festival's official website, https://rwmf.net/rwmf-food-and-village-mart/ and completed document to be submitted to the Festival's Organizer by, on or before May 31.
Applications can be emailed to [email protected], or to be handed personally to the Sarawak Tourism Board's office, which is on the 5th Floor of the Yayasan Sarawak Building, Jalan Masjid here.
All vendors are reminded to practice the recycling concept using reusable or compostable plates, cups and cutlery keeping in-line with the festival's principles of being an environmentally friendly event.
One of the festival's objectives is to instill environmental awareness, as shown in its tree planting, recycle campaign and use of shuttle buses to reduce carbon emission.
Every year, the Food Mart provides festival goers with popular local delicacies such as Sarawak laksa, kolo mee, midin, and manok pansoh among others.
The Village Mart also displays arts and crafts from local vendors, be it fabric and wood, arts, paintings, traditional clothes and accessories, henna and airbrush tattoos.
Another popular attraction at the Village Mart will be an exhibition by educational institutions, where audience can learn the history and methods of the local traditional handicrafts making for better appreciation of the art.
The 19th Rainforest World Music Festival, starting on August 5 to 7 at the Sarawak Cultural Village, has been voted among the top 25 international music festivals by "Songlines", a renowned world music magazine based in the United Kingdom, for six consecutive years.
The festival features 18 ethnic music performers from around the globe over a span of three days, including bands like Téada from Ireland, Pat Thomas & Kwashibu Area Band from Ghana, 1DRUM.ORG from Malaysia, Derek Gripper from South Africa, Shanren from China, Broukar from Syria, Cimarron from Colombia, Stelios Petrakis Quartet from Greece and Torgeir Vassvik from Norway.
Festival tickets and updates are now available online or from the ticketing agents listed at https://rwmf.net/tickets/, sold at pre-sale prices till August 4.
The event is supported by the Ministry of Tourism and Culture Malaysia and Ministry of Tourism Sarawak and endorsed by Tourism Malaysia with Malaysia Airlines as presenting sponsor.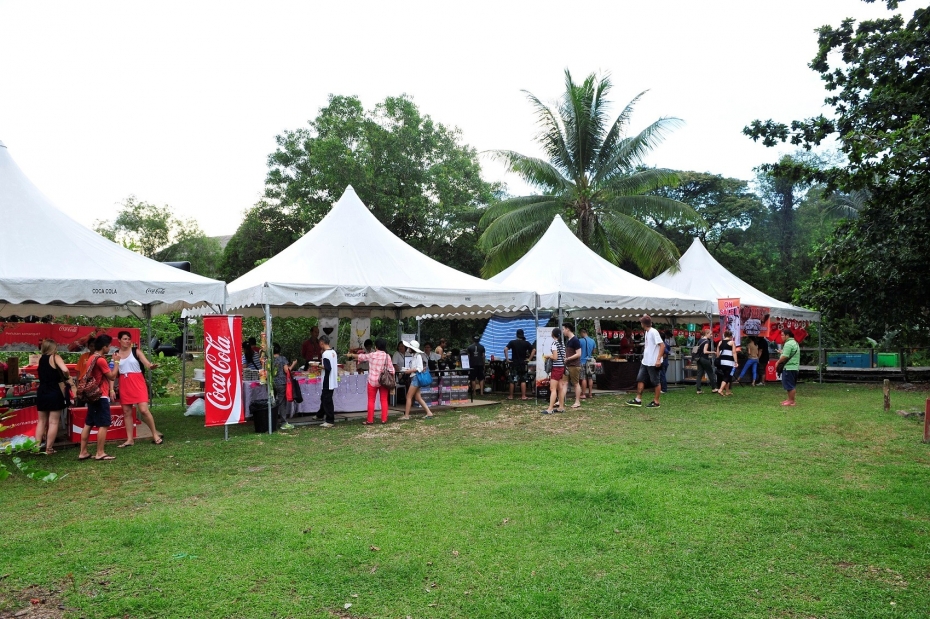 Photo shows food stalls during the previous Rainforest World Music Festival.
Issued by:
Communications Unit
SARAWAK TOURISM BOARD
T: + 6 082-423600
F: + 6 082-416700
W: www.sarawaktourism.com
Email: [email protected]
Date:   29 April 2016