Rainforest World Music Festival Packages
Get ready for the Sarawak festival packages for the the month of July! For the first time ever, Sarawak's top 3 most anticipated music and cultural festivals will involve 110 plus international and regional performers, spread over a period of seventeen days, all in one destination!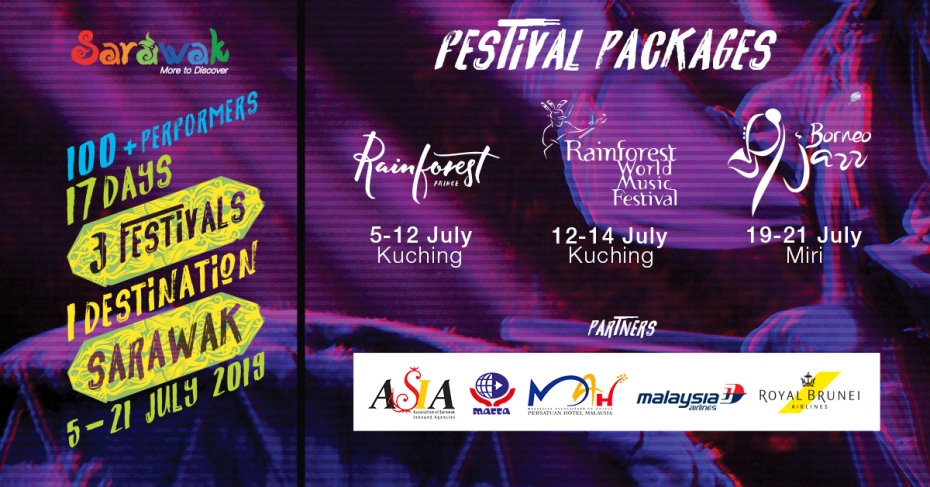 The Rainforest World Music Festival (RWMF) is the region's largest World Music event, bringing over 20,000 festival goers a year to the Sarawak Cultural Village in Kuching for a fun packed three-day weekend; featuring activities for children, cultural and musical sessions, food and crafts bazaars, wellness workshops and stunning performances.
The Borneo Jazz Festival is the longest running jazz event in the region, entering it's 14th year in sun-soaked coastal city of Miri, on the Northern side of Sarawak. It features Jazz music with a wild dash of culture and energy.
The third edition of the Rainforest Fringe Festival is a prelude to the Rainforest World Music Festival and Borneo Jazz Festival, featuring music, art, craft, film, photography, food, and culture of Sarawak and beyond. This is a non-ticketed event.
---
Rainforest World Music Festival packages with Malaysia Airlines
The following are the lead-in promotional prices from the following destinations to Kuching. These are only available through the consortium of agents listed below.
MYY/KCH All-In Rate from MYR 789
SIN/KCH All-In Rate from SGD 449
BKI/KCH All-In Rate from MYR 799
KUL/KCH All-In Rate MYR 899
* Terms and conditions apply
Please click the link for details (12KB) of the various Rainforest World Music Festival 2019 Packages + Airtickets
PACKAGES
3D2N
Package inclusive of :
Malaysia Airline Return Airfare
2 nights Twin Sharing with Breakfast
2 days RWMF Passes
Return Airport Transfer
Return RWMF Shuttle Bus Tickets for 2 days
Minimum 2 pax
4D3N
Package inclusive of :
Malaysia Airline Return Airfare
3 nights Twin Sharing with Breakfast
3 days RWMF Passes
Return Airport Transfer
Return RWMF Shuttle Bus Tickets for 3 days
Minimum 2 pax
Hotels
3- star
Grand Dormani Rajah Court hotel
Dormani Hotel
M Hotel
Ariva Hotel
Penview Hotel
4-star
Grand Margherita
Merdeka Palace
5-star
---
Inbound and Ticketing Agencies
For booking of packages or tailor made ones, please contact our listed consortium of agents:-
Disclaimer: This information is provided on an 'as is' basis and Sarawak Tourism Board (The Board) disclaims all warranties or conditions of any (express, implied or statutory) including without limitation the implied warranties of merchantability and fitness for a particular purpose (whether such purpose had been communicated to the Board or otherwise). The Board accepts no responsibility for errors or omissions and does not promise or warrant to you that any aspect of this webpage will be usable or will be available or renewed continuously. The Board further disclaims any responsibility or duty of care towards any person for loss or damage suffered from any use of this webpage for whatever purpose and in whatever manner. Without prejudice to the generality of the foregoing, it is specifically brought to your attention that in no event will the Board be liable for any loss of profits or special. Incidental or consequential damages (however, arising, including negligence) arising out of or in connection with the use of this webpage.