Korean Performing Arts… In the period of Joseon Dynasty, sandae referred to the stage held at the palace for the most important figures at the time: the King and foreign ambassadors. Upon their arrival to the palace the kingdom's most talented performers put out a spectacular sandae. Today, Palsandae with 'Pal', meaning 'eight' or 'whole' in Korean added to the name, reproduces the historical sandae stage and displays the essence of traditional Korean music and dance.
Palsandae has a wide range of repertoire including shamanic prayer songs, pansori (traditional storytelling songs), improvisational shinawi ensemble music, and pangut [pronounced: PAN-GOOD], which is the highlight of its program featuring Master Kim Woon Tae's Chaesang Sogo Dance.
Based in Seoul, Korea, Palsandae carries down the tradition of Korea's last nomadic nongak (literally meaning 'farmers' music') troupe, 'Honam Yeoseong Nongak Dan' or 'Honam region's female nongak troupe', that brought a sensation throughout Korea from the 50s to the 70s. Nongak used to be predominated by male performers, among both professionals and amateurs, as in many other cultures most drummers are male. However a handful of professional female groups emerged and made great commercial successes during that time in agricultural Korea. Director of Palsandae, Master Kim Woon Tae, started travelling with his father's 'Honam Yeoseong Nongak Dan' at the age of seven and soon became a child star. Then he toured the world as a member of Little Angels and later with the famed Kim Duk Soo Samulnori group. Kim is now most well known for his Chaesang Sogo Dance. Chaesang is the crown with a long ribbon and sogo is a hand drum. His dance became so popular that the name Chaesang Sogo Dance became a genre of traditional Korean dance.
Under Kim's direction, Palsandae preserves and develops honam udo region's pangut. It is usually performed by eleven to thirteen members and each performer plays a percussion instrument in ensemble while, running, whirling and spinning ribbons on their chaesang hats. The players keep on running in a circle, expressing the continuous flow of life.
Palsandae travels in a group of 8 to 15 members.
Photo Gallery: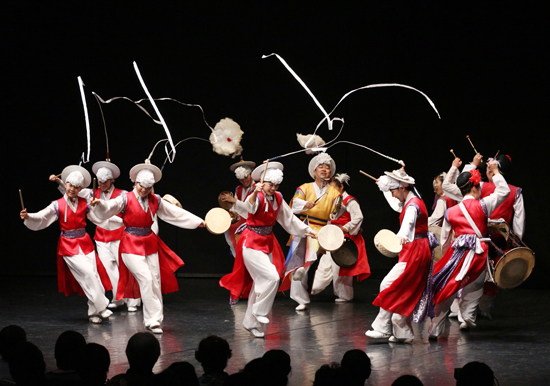 Palsandae's sponsors:
Supported by the Ministry of Culture, Sports & Tourism of Korea and the Federation of Gyeonggi Cultural Center.