Born in 1970 in Agadir, Morocco, Driss El Maloumi is an artist who is characterized by his virtuosity and talent.
After achieving a degree in Arabic literature at the University Ibn Zuhr Agadir in 1993 and studying through a memory, a philosophical approach to music related to the form and substance in the artistic discourse, he followed a Arabic and Western classical music training.  He won awardslike the First Prize in succession by the Oud, the First Prize of Development and the Award of Honorat the National Review Oud the National Conservatory of Music Rabat in 1992, 1993 and 1994.
His works traveling between different colors of contemporary music and Arabic heritage. He also finds his inspiration thanks to meeting with international artists such Jordi Saval& all Hesperion XXI (Spain), Montserrat Figueiras, with whom he collaborated on several albums, Pierre Hamon (France), KeyvanChemirani (Iran), Françoise Atlan (France), Omar Bashir (Iraq), Carlo Rizzo (Italy) and Alla (Algeria) in old, traditional or classical music and Paolo Fresu (Italy) Claude Tchamitchian (Armenia), the trio Paftrio (Italy) and Maureta Xavi (Spain) in jazz.
Driss wrote and participated in the composition of music for several shows such as Isabel "I" (musical director Jordi Saval), Love Wizard of Manuel de Falla (director: Antoine Bourseiller) Caravan Moon (Direction Conductor: Gerard Kurdjian) and Moon Bird (Director: Antoine Bourseiller) or film music as "La Source des Femmes" (Director: Radu Miahileanu).
Driss El Maloumi also plays along side poets such as Abdelatif Laâbi (Morocco) and Adonis (Syria).
He directed the jazz album « Tawada » with French artist Alban Darche in 2000. He also participated in acclaimed recordings album "Noches" Francoise Atlan in 1998 and in the recording of Laurent Voulzy's "Lys & Love" (2011).
In 2005, he released his first album under his name called "L'Ame dansée" (Buda Musique) in duo with percussionist Lahoucine Baquir.
Everywhere the press has praised the quality, purity and delicacy of hisplaying and his music, callingit a "magician of Oud".
By the end of 2013 he released the album "Makan" which is performed in a trio with two percussionists, Said El Maloumi & Lahoucine Baquir.
Photos: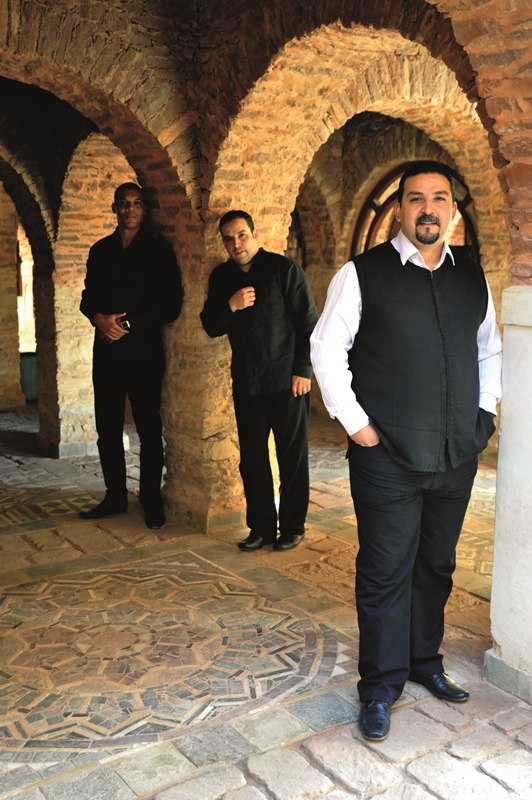 Info :
www.contrejour.com
www.drisselmaloumi.org
Email: [email protected]