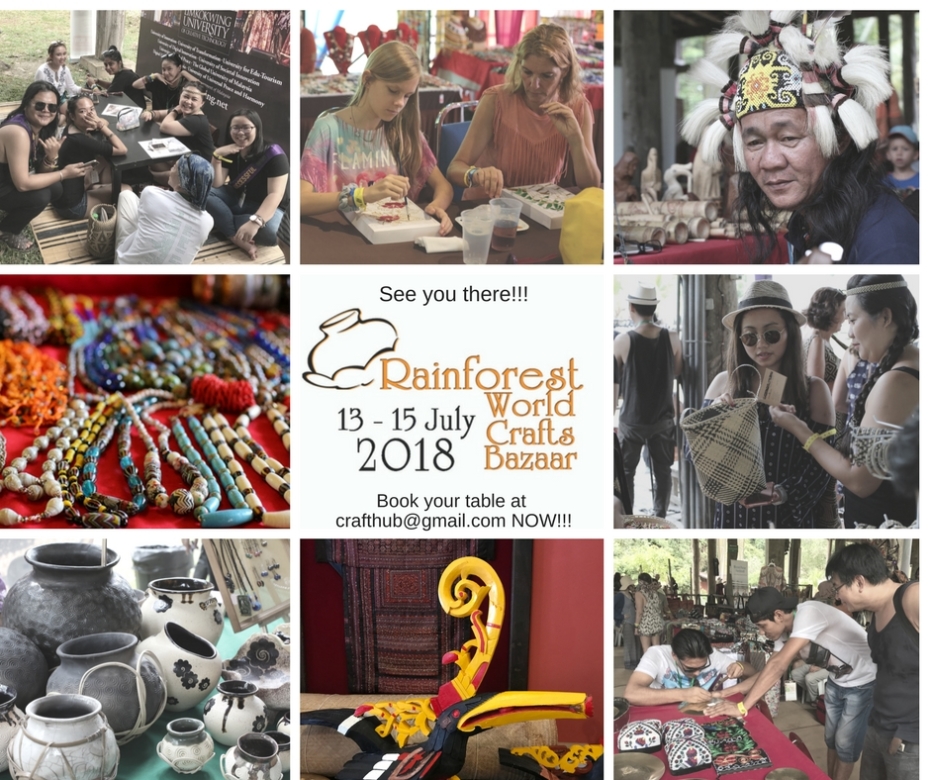 The Rainforest World Crafts Bazaar (RWCB) 2018 will again complement the world-famous Rainforest World Music Festival in the Sarawak Cultural Village – for the 10th time!
The RWCB takes place from 10.30am to 8.30pm and adds a vibrant dimension of browsing, souvenir-shopping, hands-on experiences of Borneo crafts and world-wide links to the music festival.
Some of our activity programmes include:
---
'PEOPLE OF THE LAND' at RWMF
For Rainforest World Music Festival, we propose to present 'People of the Land', a weekend activity in partnership with the Rainforest World Crafts Bazaar presented by Crafthub. The programme will feature an exhibition, workshops, a tamu art market and a music demo.
'People of the Land' explores themes of folklore and fables, endangered flora and fauna, disappearing cultural practices, and ponders questions on how our indigenous narratives define people and place to compose a landscape of spirituality, heritage and identity.
---
BORNEO BENGKEL
Borneo Bengkel is a creative platform that explores indigenous identity and culture through the focus of artisans, musicians, academicians and performers. Coordinated by HAUS KCH and Catama Borneo, it started out as an arts residency in 2017 and now includes 40 collaborators from Sarawak, Sabah and Kalimantan.
---
MOUTH ORGANS OF BORNEO
Mouths Organs of Borneo presents the story of the sompotong, the kededek, the keledi or the engkrurai, all different indigenous names for a bamboo and gourd instrument still used in Borneo. The musicians, who are usually also the makers of this mouth organ, will share their lore and give short recitals.
---
LIMKOKWING CREATIVITY & INNOVATION
A series of exhibitions, workshops and performances from architecture to fine arts to crafts showcasing youthful creativity and innovation.
---